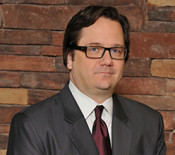 John D. Jones joined Black & LoBello in early 2009. Mr. Jones practices primarily in domestic relations and family law. Mr. Jones has extensive experience in trials involving all areas of family law, and complex financial issues associated with divorce proceedings, with particular expertise in business valuation and stock options. Mr. Jones also has extensive trial experience in complex child custody issues.
Mr. Jones graduated from Dickinson College in 1990 with a bachelor's degree in English and a minor in Latin. Mr. Jones was awarded his Juris Doctor in 1993 from the University of Pittsburgh. In 2002, Mr. Jones became a graduate of the American Bar Association Family Law Section, Trial Advocacy Institute. Mr. Jones was admitted to practice law in Pennsylvania in 1994 and in Nevada in 1998. Mr. Jones is one of a small group of Board Certified Family Law Specialists in Nevada.
When not putting his nose to the grindstone at Black & LoBello, Mr. Jones enjoys spending time with his wife, Michele, and two children, Alexandria and Jackson. Mr. Jones enjoys traveling and champagne for any occasion. What he enjoys most, however, is excelling at the practice of law and zealously advocating for his clients.
---
Read reviews of John Jones on AVVO.com
         
---
Leave a comment for John Jones